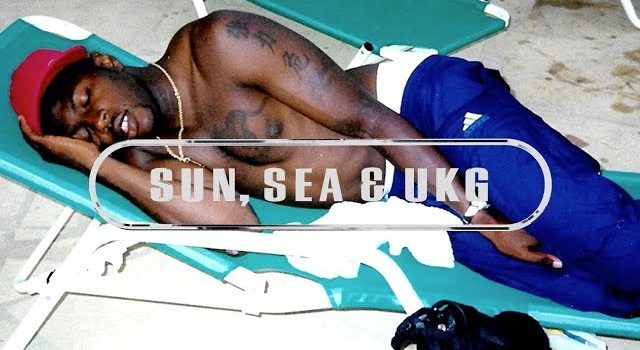 Comments Off

on Sun, Sea, UKG 'Ayia Napa' Documentary
Sun, Sea, UKG 'Ayia Napa' Documentary
In 1998, UK garage selector DJ S schlepped a box of records along on his honeymoon to Cyprus. "I was loving it, being in another country, DJing. The Mrs didn't mind," he says in Boiler Room's latest documentary, Sand, Sea, UKG. What started as an inevitably hefty excess baggage charge gave way to one of the most formative and influential periods of UK garage — despite it taking place 3272 kilometres away, in a little beach town called Aiya Napa. Ignore Ibiza, bye Berlin. If you were into underground dance music between 1999 and 2003, this was the place to be.
The film captures this heady four year period in all its pre-grime glory. Every summer over that short, sunny window of time, the Cypriot town would erupt in a cocktail of mopeds, street parties, turf wars, flip phones, UKG's distinctive snares and a who's who of garage Djs and MCs: DJ Spoony, MC Creed, MC DT, Norris 'Da Boss' Windross, Kele Le Roc, MC CKP, and an actual child — the scene's so-called mascot — Little Charlie.
Right at the centre of it all was a certain collective hailing from Battersea. "So Solid Crew, as a brand, came to this business when no street youth were in it and being paid in the same way as pop stars — before the internet and smartphone era," SSC's Megaman tells GD News. "As leaders of the new skool back then, we wanted to be more than club MCs and DJs. We wanted to be stars heading for TV exposure and awards shows." Ayia Napa provided the opportunity to put garage on the map. When Mega and the crew first arrived in 1999, he says, "We felt like we could build our brand very quick on that island." And they did. The distillation of the scene's most avid DJs, promoters and ravers on a stretch of sand that one punter lovingly refered to as "pissy beach," was the perfect sweaty greenhouse for garage to flourish in. As Mega explains, "If you went to Ayia Napa back then you were bound to become five times more popular than you were if you just stayed in UK for the summer."
But as the documentary depicts, it wasn't just a matter of turning up and putting your records on any old deck. "It was competitive with the club owners on the island," Mega explains. The roots of these rifts ran deep — the clubs were typically owned by the island's influential families, their history predating UKG's arrival. This tension, he says, "kind of drifted down to whoever they had performing that night or paid to come out to Cyprus." But it was a two-way neon-lit street: garage needed these clubs to park up in, and the families wanted a piece of the scene too.